TAKING CHARGE OF YOUR OWN FUTURE
Practice Management & Marketing Innovations for Mental Health Practitioners
Co-presented by David P. Diana, M.A., LPC, NCC & Barbara Melton, M.Ed., LPC, NCC
Friday, September 14th, 2012 9:00am-4:30pm
Location: TBD in Greenville, SC
If you're looking to grow and gain a competitive advantage in the mental health business, then this workshop is for you!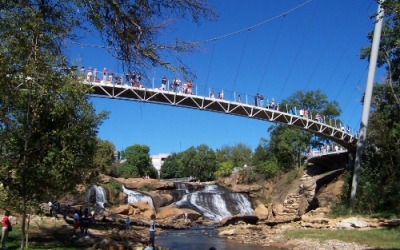 David Diana and Barbara Melton are offering a workshop packed with practical and insightful information that has helped therapists across the southeast build successful practices.  It has sold out in Charleston and Columbia, SC so act now to be sure you don't miss out!
About the Workshop
Learn a marketing model that will have an incredible impact on your business and career.
Use a process for building an influential "Personal Brand" that leads to long-term growth.
Implement innovative ideas for building instant credibility and influence in your market.
Explore the role of the Internet & technology for the mental health profession (e.g., Website Design, Search Engine Optimization, Social Networking, Email Marketing, Online Therapy, and Blogging).
Learn practice management essentials to include choosing your ownership structure, insurance coverage, the medical billing process, ethical and legal considerations, must have processes, and more!
Be provided a "Private Practice CD Guide" (128 pages of incredible info) that includes a practice management checklist, a wide variety of essential practice forms, and critical HIPAA information.
And much, much more!
Earn CEU's!
Participants earn 4 CEU's for attending the workshop.
(Includes: Counselors, Social Workers, MFT's, and Psychologists)
Registration & Fees
We are offering a "first come" $95 rate for those who sign up by August 15th.  The workshop will sell for $125 after that date.  Don't miss this incredible deal!  Register today before we sell out!
You can sign up by downloading the registration form or reserve your space immediately by paying online.
Payment By Mail
– DOWNLOAD THE REGISTRATION FORM HERE –

*Make checks payable to Counseling Associates and mail your registration to:
Counseling Associates
PO Box 1263
Charleston, SC 29402
(NOTE: Cancellations within 48 hrs. will result in 100% refund of monies paid; substitutions allowed.)
Online Payment
(If you do not have a Paypal account simply click on the "Don't have a paypal account?" link after you click the "Buy Now" button above.)
Your registration fee includes the following:
A library of eight popular eBooks on marketing and business development
A 128 page "Private Practice CD Guide" that contains all the tools you need for your business.
An electronic copy of David's "Creative Hive Workbook" packed with exercises and a unique process for building a powerful marketing plan.
$100.00 off of a custom designed WordPress website by Nicole Diana of David P. Diana Marketing.
Continental breakfast and afternoon refreshments/snacks
About the Presenters
David P. Diana, M.A., LPC, NCC
David is a licensed professional counselor, author, life coach, and sales/marketing expert who has been in the mental health field as both a clinician and business consultant for the past 18 years.  He is the co-founder of David P. Diana Marketing and is the former Director of Business Development for a 263-bed behavioral healthcare organization.  David is the author of the book, Marketing for the Mental Health Professional, published by John Wiley & Sons, and is the founder of a popular weekly blog focusing on professional development ideas and marketing innovations.  He was recently a recipient of the 40-under-40 award by the Charleston Business Journal which each year recognizes forty of the most influential business professionals under forty years old in the Charleston metro area, and he received the Tri-County Association award for Outstanding Community Service in 2009.
Barbara Melton, M.Ed., LPC, NCC
Barbara is a licensed professional counselor, clinical supervisor, family mediator & pub- lished author & has been in private practice in downtown Charleston since 1989.  She has a wealth of experience as a consultant, therapist, trainer and author.  She is the co-author of What in the World are your Kids Doing Online?  How to Understand the Electronic World your Kids live in which was published by Broadway Books, a division of Random House/Doubleday.  She has been interviewed by MSNBC and most recently by Family Circle Magazine and has spoken at numerous conferences in reference to the book she co-authored with Susan Shankle, MSW.
For More Information
Questions? Call Barbara Melton at (843) 834-7859 or David Diana at (843) 696-0977.